Tel: 01638 716970
OPEN GARDENS
SUNDAY JUNE 24TH
11 AM – 5 PM
ON BEHALF OF GUIDE DOGS FOR THE BLIND and
MILDENHALL AND DISTRICT MUSEUM
Posters are now going up all over the town and we trust that all members and volunteers will support us and make this an event that will not just raise money for two good causes but will raise the profile of the Museum and its work not just in Mildenhall but in the wider area. There will be teas and plant sales in the
garden of Hereward House for which the Museum Committee would like to express their thanks to Hazel Traylen and Mike hilcox. Sincere thanks also to Jill and Martin King of Guide Dogs for the Blind for their work and advice.
NOW WE NEED THE HELP OF OUR MEMBERS (Male and Female) ….
NO OPEN GARDEN EVENT SURVIVES WITHOUT CAKE.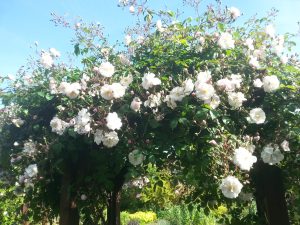 Please bake for Mildenhall….if you aren't Mary Berry minded, no matter, Mary Baker is waiting in a packet
to help you out……Please ring me on 01638 712883 or Hazel/Mike on 714455 and let me know if you will
deliver your cake to the Museum/Hereward House or need it collected. No cake will languish uneaten.
Tickets are now on sale at the Museum for £4 under sixteens are free
or can be bought from gardens on the day. All Open Gardens will be marked by
banners and balloons
Enquiries to 01638 714455 or 01638 712883