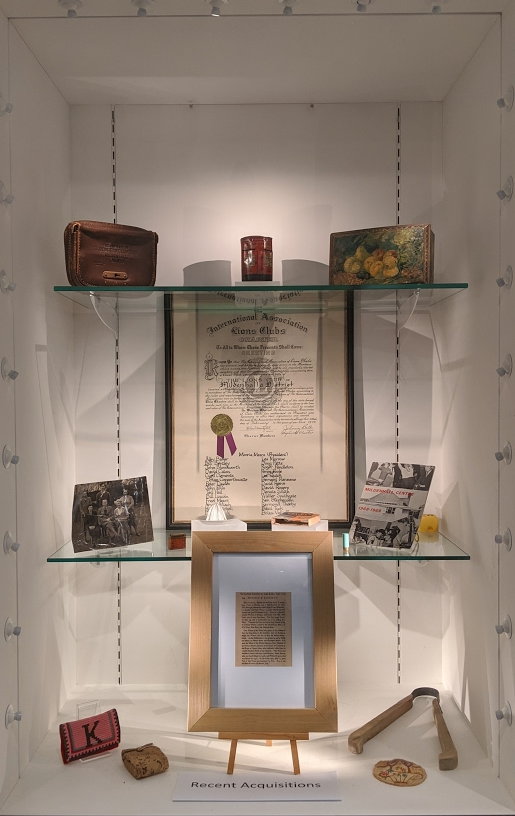 Recent Acquisitions
M
ILDENHALL MUSEUM has recently been gifted a variety of artefacts which we are proud to display on the ground floor of the museum. Here are a few of them, the rest you must come to the museum to see.
Recent Acquisitions October 2019
Mildenhall Lions Club. This is the original charter awarded to the Lions Club of Mildenhall at their inauguration on February 28th 1975. The Lions club were responsible for re-vitalising the Mildenhall Carnival for several years during the 70s and 80s and also for persuading Santa Claus to visit Mildenhall and the local area during December each year. This continued until their eventual demise just a few years ago. How many of the names on this charter do you remember? Several of them are alive and well to this day.
Children's money box from the 1940s and 1950s. It contains some money which is probably pre-decimal coinage. How much do you think is in it?
Have you any idea what this is? Way back in the mid twentieth century many businesses, particularly shops, would collect large amounts of cash which they didn't wish to keep on the premises overnight. Rather than take the cash home they would place it into one of these bags and deposit it in the bank vault. Through "a hole in the wall" perhaps!
Do you recognise any of these good people? Can you remember their names? They are ............ well now, that would be telling wouldn't it! You will have to visit the museum to find out.
Click on any picture for an enlarged version.