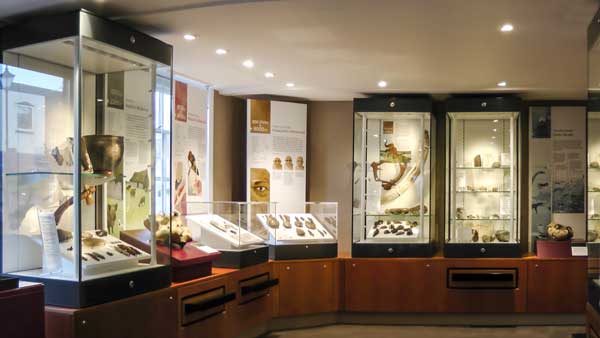 Half a million years of history under one roof
Discover the history of Mildenhall, its treasures and people told through wonderful displays in our newly developed galleries.
From our pre-history room with flints and fossils with examples you can touch, to our 1950s community room, Mildenhall Museum has something for everyone. You can see the Lakenheath Warrior, his horse and his artefacts from the grave; discover the mystery of the magnificent Mildenhall Treasure; and find out about the key role Mildenhall's air base played on the Second World War.
The Suffolk Punch
Mildenhall Museum is hosting temporary exhibition on the oldest breed of heavy horse in the UK, the Suffolk Punch.   The breed can be traced back to 1768.   Renown for  immense strength and power of endurance  they were used for various agricultural purposes , pulling brewers drays and also gave outstanding service in World War 1.  Now a rare breed these gentle chestnut giants may be seen extracting timber, pulling a carriage or being ridden.  The exhibition includes much material  loaned by the Suffolk Horse Society and  photographs and artefacts  loaned by  owners or previous owners in the areas around  Mildenhall, West Row and Soham .  The exhibition runs until the end of April.
How to find us

View Larger Map
For free parking turn left onto Recreation Way then immediately right by Costa, keep left and park in the Jubilee Centre car park.

---