Coronavirus Update

Mildenhall Museum will be re-opening on Tuesday 4th August. The opening hours will be Tues, Wed, Thurs 2.00 – 4.00 and Friday 10.30. – 4.00.

Visitors will be expected to wear a mask and we will issue them with gloves which MUST BE WORN. To comply with Track and Trace, details are to be given which will be retained for 14 days and then destroyed.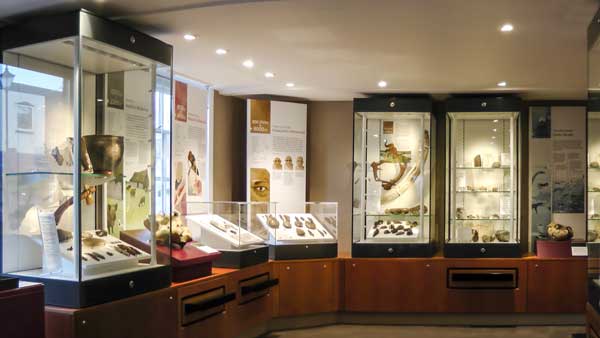 Half a million years of history under one roof
Discover the history of Mildenhall, its treasures and people, told through wonderful displays in our newly developed galleries.
From our pre-history room with flints and fossils with examples you can touch, to our 1950s community room, Mildenhall Museum has something for everyone. You can see the Lakenheath Warrior, his horse and his artefacts from the grave; discover the mystery of the magnificent Mildenhall Treasure; and find out about the key role Mildenhall's air base played on the Second World War.
---
Please note that until further notice we are unable to accept items for identification. We apologise for the inconvenience. This facility will be reinstated as soon as possible.
---
---
Mildenhall Cricket Club
Project "THAT'S OVER"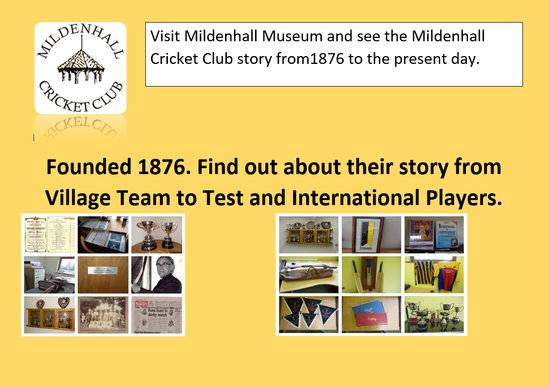 On show in Mildenhall Museum until end of MAY.
---
How to find us

View Larger Map
Car Parking for the Museum is at the Council Free Car Park below Sainsbury's, post code IP28 7HG.

---