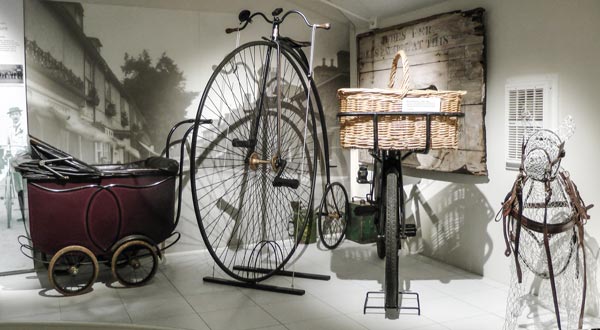 The town of Mildenhall
M
ILDENHALL HAS a long and varied history – its memorable market cross was installed after a royal charter was granted as long ago as 1412. Mildenhall once boasted its own railway station, although local opposition meant that it was never fully integrated into the town and it was closed down in the 1960s. You can read Dr Dring's brief history of Mildenhall
here
.
---
Penny farthing
Two-wheeled transport has long been a Mildenhall favourite. Cycling clubs and events began in the 1880s and continue today.
Olympic cyclist Victoria Pendleton was introduced to competitive cycling by her father Max at Mildenhall Cycling Club when she was nine years old. She won a gold medal in the Keirin event and a silver medal in the sprint at the 2012 Olympics.
---
Butcher's bike
Parish the butcher ran his shop in the High Street from 1924. You can see Parish's delivery bike to the right of this photograph.
The premises was a butcher's shop from as early as 1711. In that year, records show, butcher John Shafton and two of his children died in the smallpox epidemic that killed 55 people in Mildenhall.
---
Goat harness
The daughters of Mr J W Lock of Eriswell had a goat cart, for which their father had this harness made by Mr A Barker of Lakenheath, a saddler and harness-maker.
The photo shows an early 20th century example of a goat cart which belonged to a relative of one of Mildenhall Museum's trustees.